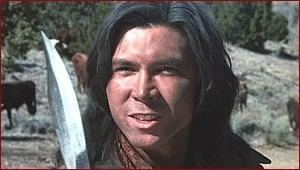 Jose Chavez Y Chavez was a famous outlaw and counterpart to Billy The Kid.
Chavez y Chavez joined Billy the Kid in his twenties, having already committed a number of small robberies and other crimes, Chavez y Chavez would prove useful to Billy the Kid's gang. Together with Billy and the four other members of the gang, Chavez y Chavez engaged in the Lincoln County War that lasted from 1878 to 1879.
Chavez y Chavez met Billy The Kid, Doc Scurlock, Dirty Steve Stevens, Charlie Bowdre, and Richard Brewer after he decided to join the Tunstall-McSween group in their war against the Dolan group. Inside the Tunstall-McSween group, another group was formed, to try to give the Tunstall-McSween group an edge over the Dolans as they were known, were forty five gunfighters that included Jose Chavez y Chavez. During some point of his tenure as a member of the Regulators, Chavez y Chavez met Billy the Kid and his other friends, joining the group thereafter.
On February 18, 1878, John Tunstall was murdered. On April 1 of the same year, Lincoln's sheriff, a Dolan backer, was killed by the Kid's gang, and Chavez y Chavez credited himself with this killing.
Eventually, more killings from both sides followed, leading to the burning of the McSween home on July 19. Fourteen people lived at the house, including McSween and his wife, as well as twelve cowboys. Six people died in the fire, but every member of the Kid's gang was able to escape.
By March 1879, New Mexico Governer Lew Wallace began a fight against crime in that state, and one of his priorities was to stop the ongoing war between the Dolans and the Tunstall-McSween backers. With this in mind, Wallace formed the Lincoln County Mounted Rifles, a group of which Chavez y Chavez became a member, as a private. The "Mounted Rifles" failed in their purposes, however, and the group lasted only about three months, a period during which Chavez y Chavez remained with Billy's gang.Eventually Chavez was shot in a shootout between Billy and Pat Garretts posse at Stinking Springs. and died later on.