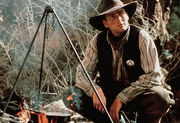 Richard 'Dick' Brewer was the first leader of the Lincoln County Regulators in the film Young Guns

Brewer was born in St. Albans, Vermont. At the age of four, he and his family moved to Boaz, Wisconsin .[1] Brewer would move on to Missouri before arriving in Lincoln County, New Mexico. Brewer tried farming as a profession, and he bought a farm in Lincoln County with this in mind. In the spring of 1871, Brewer began working for Lawrence Murphy, but soon left that job. By 1876, he was working as a cattle foreman for cattleman John Tunstall, owner of one of the largest farms in the area.
Murphy and James Dolan had established a general store monopoly in Lincoln before Tunstall decided to compete with them, and saw Tunstall as an opponent and rival, rather than as merely a competitor. Alexander McSween began working for Tunstall, and as a consequence the Tunstall-McSween vs Murphy-Dolan began. According to historians, this violent war was instigated by Dolan, who hired gunmen from the Evans and Kinney gangs to rustle cattle from Tunstall, and harass him.
On February 18, 1878, a turning point in the rivalry happened when Tunstall was murdered. After Tunstall's murder, a posse was deputized to serve arrest warrants on his killers, with Brewer chosen to lead the posse.[2] The Regulators originated from that posse, and included Billy the Kid and Jose Chavez y Chavez. The forty-five gunmen who were chosen were, according to legend, among the best killers in the west. Brewer allegedly formed the group, and was himself a member.
He was later killed by Buckshot Bill